The Ultimate Showdown: Air Fryer Versus Toaster Oven
If you're a fan of fried food but are afraid of the side effects of these greasy meals, you clearly don't own an air fryer. It's become a hot topic in the healthy living community for its uncanny ability to mimic fried food taste without the oil. Meanwhile, there's also the toaster oven. Because it uses a similar method of cooking as air fryers, many people compare the two appliances. In this article, we will discuss air fryer versus toaster oven – what are the differences and how do they compare?
What Are Air Fryers?
While it's called an air fryer, air fryers don't actually fry food. An air fryer is a convection oven that simulates deep frying. Instead of submerging food in oil, air fryers cook food using hot air at high speed. The reason they're called air fryers is that the result of the cooking is incredibly similar to deep-fried food.
So why are air fryers considered healthy? Many findings have shown that air-fried food have reduced food hazards and lower fat content compared to deep-fried food.
Top 3 Air Fryers
COSORI Air Fryer Pro LE 5-Quart
Having 9 different functions, this COSORI Air Fryer Pro LE 5-Quart is everyone's favorite. It cooks food relatively quickly and evenly, including meats such as fish and steak!
The unit is also relatively compact but is still capable of cooking for up to 4 servings. They claim to be able to cut down as much as 85% of oil.
Ninja AF101 Air Fryer
The Ninja AF101 Air Fryer is coated with non-stick 4-quart ceramic, and it also comes with a crisper plate and a multi-layer rack. This air fryer makes the tastiest, crispiest food, from french fries to fried chicken, and it cooks pretty fast! Many users have attested to the durability of Ninja's kitchen gadgets.
Instant Vortex 2-QT
For our resident broke college students, this Instant Vortex 2-QT is perfect for you. It costs less than $50 but already has 4-in-1 functions, namely air fry, bake, roast, and reheat. Moreover, this mini air fryer has safety features where it automatically turns off if it overheats.
What Are Toaster Ovens?
A toaster oven is basically a smaller version of a regular oven. It's a small countertop kitchen appliance usually used to toast bread. However, toaster ovens can also be used to cook food, and they heat up faster than regular ovens.
The first design of toaster ovens used radiating heat from heating elements at the top and bottom of the oven. Nowadays, toaster ovens use convection so that hot air can be circulated more evenly and quickly.
However, even with this convection method, toaster ovens are not as fast as air fryers when cooking food. Because of the fan mechanism (and also the smaller size), air fryers are able to move air twice as quickly as toaster ovens. And this quick cooking is what makes air fryers healthier than toaster ovens, as it allows the food to retain more nutrients.
Top 3 Oven Toasters
Elite Gourmet ETO236
Starting with a compact one, Elite Gourmet Personal ETO236 is an affordable option for young people who live alone. It has multiple functions including convection, rotisserie, and broil to suit your cooking needs. Don't be fooled by its small size because you can use it to cook main courses such as chicken.
Mueller Austria MT-175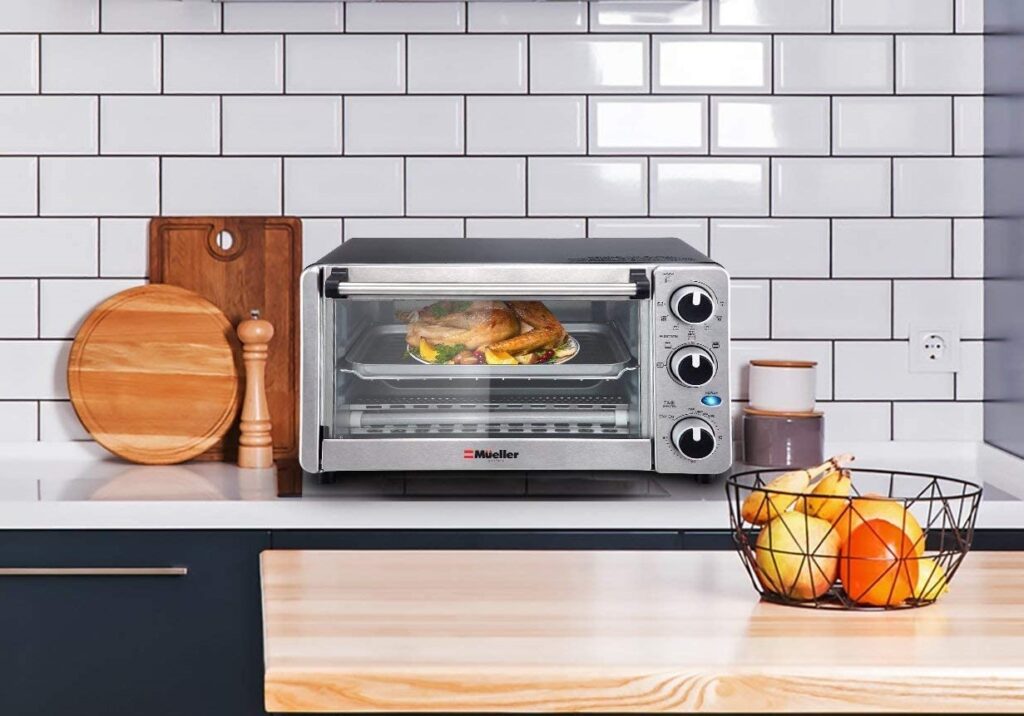 Next, this Mueller Austria MT-175 has a sleek curved double-deck interior designed to fit a 9-inch pizza. Its functions include baking, broiling, toasting, and keeping food warm, and it has a built-in 30-minute timer to ensure safety. It is also energy efficient, emitting little footprint.
Panasonic FlashXpress
This toaster oven works wonders as it doesn't require preheating! With two infrareds at the front and back, the Panasonic FlashXpress toasts, bakes, browns, and reheats food to perfection. The double infrared technology cooks and warms your meal more evenly and quickly, and the smart sensor turns the heat on and off automatically to maintain the perfect temperature for each meal.
What Are Air Fryer Toaster Ovens?
As the name suggests, an air fryer toaster oven is a device that combines the mechanism of both an air fryer and a toaster oven. Users can choose between the two modes to cook their meal, using just one item.
Top 3 Air Fryer Toaster Ovens
Geek Chef 24.5 QT Air Fryer Oven
With super size and super features, this Geek Chef 24.5 QT Air Fryer Oven is the solution to many of your cooking problems! It has 3 rack levels which enable you to cook for up to 10 people at once!
The air fryer toaster oven has 5 preset cooking functions: warm, broil, toast, bake, and air fry. It is extremely versatile and effective for cooking food in a healthier way. However, due to its big size, it understandably cooks food relatively slower than the aforementioned air fryers and toaster ovens.
Cuisinart TOA-60W AirFryer Toaster Oven
Our next air fryer toaster oven review is the Cuisinart TOA-60W AirFryer Toaster Oven. It has countless functions: toaster oven, air fryer, convection bake, convection broil, pizza, roast, bagel, reheat, warming feature, defrost, and high/low convection fan speed options.
It also has a dual cook with a wide temperature range (80°F to 450°F). And even though it's pretty big (able to fit a 12-inch pizza), the cooking time is relatively fast.
COSORI CS100-AO Smart Air Fryer Toaster Oven
Saving the best for the last, this COSORI CS100-AO Smart Air Fryer Toaster Oven is a game changer. Offering 12 cooking methods, 2 layers with a 25-liter total capacity, rapid heat circulation with temperatures up to 450°F, and a smart control function, what else do you need?
You can connect the air fryer toaster oven to Alexa and use voice control. It also has an app that enables you to monitor and control the device from afar. You would think that all of these functions will make it tricky to use but it's actually very simple and easy to use. You can cook anything with this smart guy and it will serve you the most delicious meals.
Conclusions: Air Fryer versus Toaster Oven
Both air fryers and toaster ovens use a similar method of cooking, namely by distributing heat through convection. They're also both relatively compact and are countertop appliances.
One big difference between the two is the health benefits air fryers have, particularly their reduced food hazards and fat content. Toaster ovens, on the other hand, don't have significant health benefits. Where toaster ovens win is their spacious interior capacity and many presets.
However, both cooking methods lack a great ability to kill bacteria. According to this study, both air fryers and toaster ovens aren't as effective as deep fryers in killing Salmonella in frozen meat.
In the end, many manufacturers have created the perfect combo of an air fryer and a toaster oven. If you're torn on which one to choose, we suggest you buy a unit of air fryer toaster oven, so that you can cook each meal with whichever method you like.
Free 2-Hour Delivery on Food Groceries
Order healthy ingredients and get them fast & fresh via Prime.
Other than Free 2-Hour Food Groceries Delivery…
Enjoy LinkedIn Premium, movies, music & special discounts on textbooks for 6 months – FREE.
Use SNAP EBT…
Pay for groceries on Amazon with SNAP EBT and enjoy free shipping. No Prime membership is needed.