Easy Caramelized Roasted Brussels Sprouts in the Oven with Bacon
Nothing beats roasted Brussels sprouts in the oven especially when there's bacon involved! This scrumptious side dish pairs well with pork chops or roasted chicken for an easy low-carb meal. You can also enjoy it as is for a lovely breakfast. 
Brussel sprouts may look like tiny versions of cabbages, but don't let their small size fool you. Each bite is packed with nutritious goodness. They even have more iron, potassium, Vitamin B1, Vitamin K, fiber, and copper than broccoli!
Ingredients
Directions
Preheat the oven to 400°F (200°C). 
In a large cast iron skillet, cook the bacon evenly on both sides over medium-high heat. Once cooked, remove from heat and let the bacon rest on a cooling rack set over some paper towels.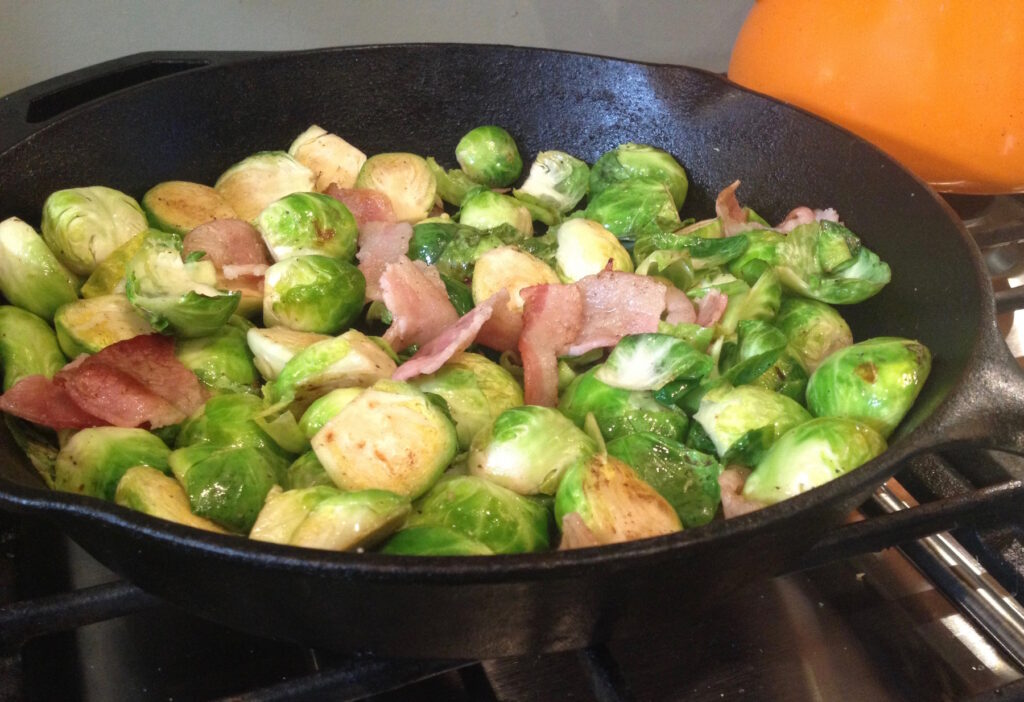 Blot the bacon with the paper towels once they've cooled down to remove excess fat and then crumble.
When the skillet has slightly cooled, transfer the excess bacon fat into a heat-safe container. Wipe off any fat dripping down the side of the skillet with a damp dish cloth before putting it back on the burner on medium-high heat. 
In a large bowl, toss the Brussel sprouts in olive oil and season with salt and freshly ground black pepper to taste. 
Add the Brussel sprouts into the skillet and cook until they start to turn brown. Add the crumbled bacon and transfer to the preheated oven. 
Roast until the Brussel sprouts turn a rich, caramelized color, around 20 to 25 minutes. Make sure to stir halfway through. 
Remove from oven and serve immediately. 
Bon appetit! 
Free 2-Hour Delivery on Food Groceries
Order healthy ingredients and get them fast & fresh via Prime.
Other than Free 2-Hour Food Groceries Delivery…
Enjoy LinkedIn Premium, movies, music & special discounts on textbooks for 6 months – FREE.
Use SNAP EBT…
Pay for groceries on Amazon with SNAP EBT and enjoy free shipping. No Prime membership is needed.