Quick & Easy Cashew Chicken Wraps Great for Weight Loss
Cashew chicken wraps are an easy and delicious way to enjoy a healthy, homemade meal.
These wraps are packed with chicken, veggies, and creamy cashew sauce. They're perfect for a quick lunch or dinner and can be made ahead of time for even easier meal prep. Definitely low in carbohydrates for anyone who's on a low-carb weight loss diet.
Sauce Ingredients
*To lessen the spiciness, use ¼ teaspoon of crushed red pepper flakes instead
Ingredients
Directions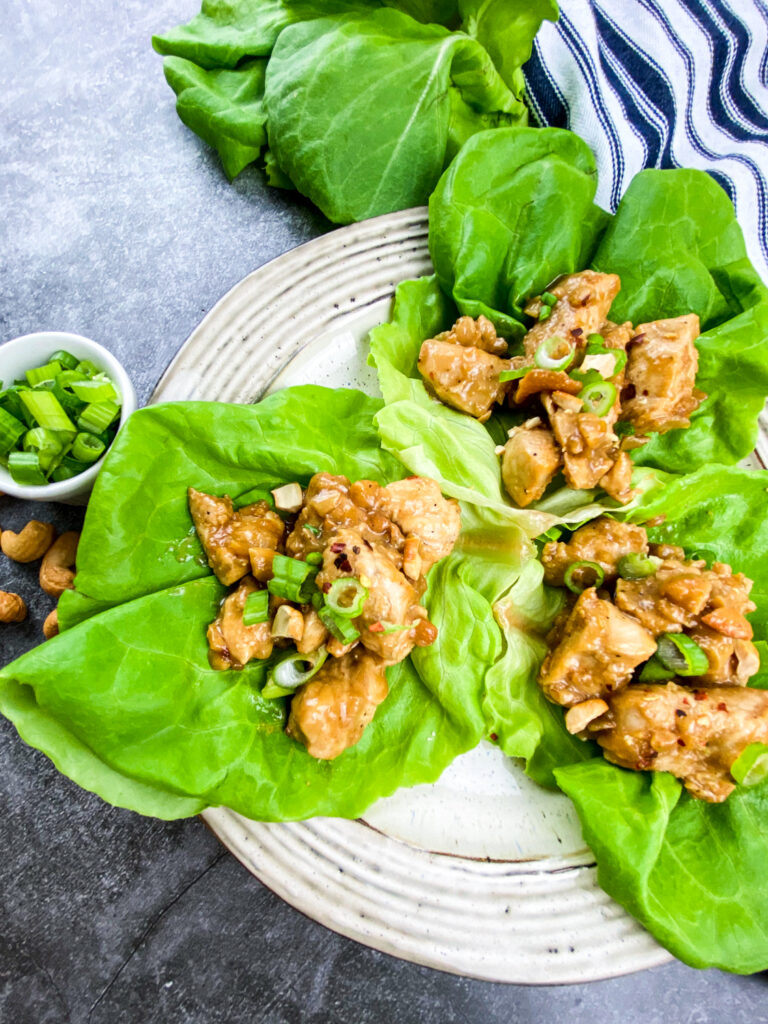 In a large bowl, combine and whisk the tamari, peanut butter, honey, rice vinegar, garlic, sesame oil, and crushed red pepper flakes.

Then, add the cubed chicken breast and toss gently to combine. Set aside.
Over medium heat, melt butter in a large nonstick skillet. Add the white part of the green onion and the garlic. Season with salt and pepper, to taste, and stir together.

Cook the onion, stirring occasionally, for approximately 2-3 minutes until it starts to develop some colour.
Into the skillet, pour the sauce and chicken and stir to combine. Stir occasionally until the sauce thickens and the chicken is cooked through. This will take approximately 8-10 minutes.
After the chicken mixture is cooked, remove it from the heat and divide it between Bibb lettuce leaves.
Garnish with sliced green onions over each wrap and sprinkle chopped cashews on top. Serve right away.
Bon Appetit!
Free 2-Hour Delivery on Food Groceries
Order healthy ingredients and get them fast & fresh via Prime.
Other than Free 2-Hour Food Groceries Delivery…
Enjoy LinkedIn Premium, movies, music & special discounts on textbooks for 6 months – FREE.
Use SNAP EBT…
Pay for groceries on Amazon with SNAP EBT and enjoy free shipping. No Prime membership is needed.